#SoarWithCoPN
As part of an initiative called #SoarWithCoPN, the College of Pharmacy and Nutrition's Indigenous Initiatives Committee is looking to share the experiences, interests, and success stories of our Indigenous alumni. The goal of this initiative is to help increase enrolment of Indigenous students and recruit more Indigenous faculty and staff to the college.
Here are some of the great stories we have so far. 
Charlotte Pilat Burns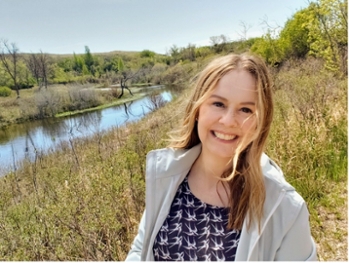 College of Pharmacy and Nutrition Alumni 
Member of the Métis Nation-Saskatchewan  
Transition Specialist – Nutrition and Food Services SHA 
Centennial Alumni of Influence Award Winner – College of Pharmacy and Nutrition 2014 
"Food is our medicine, and I feel like it is a really important pathway to reconciliation"
After spending two years in Arts and Science, Charlotte Pilat Burns discovered a love for healthcare and talks about a family motivation which led her to a career as a registered dietitian. As a citizen of the Métis Nation-Saskatchewan she currently works in the Saskatchewan Health Authority as a transition specialist promoting the importance of food in nourishing and healing people, communities, and the planet. "Food is a really excellent way to understand each other's culture and each other's needs. The more that we can do within that nutrition realm the better off our whole healthcare systems and community systems will be," she said.   
Among the wide benefits of pursuing a career in nutrition, Charlotte talked about the versatility of the program as she explained, "we have a lot of opportunities that people don't really understand…your skills can take you pretty much anywhere in any industry because we have such amazing training."  As a CoPN 2014 Alumni of Influence award recipient, she is leading work in the area of improving community food security and food sovereignty by exploring ways to leverage the economic power of healthcare spending within the food system in Saskatchewan in a sustainable way that is co-designed with key partners. As a Nourish Innovator, Anchor Collaborative Lead and Advisor, she provides leadership in local and national initiatives, including Indigenous Foodways and Sustainable Menus.  "I truly believe, and I know it's a knowledge that's been believed for many generations is that food is our medicine, and I feel like it is a really important pathway to reconciliation," she said as she talked about how we can achieve a more sustainable future by working together and recognizing that food is sacred.
---
Emma Marie Werezak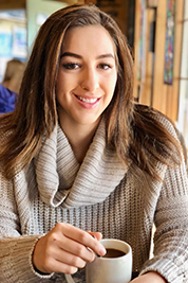 Third year PharmD student 
Member of the Muskeg Lake Cree First Nation
Bachelor of Science (Honours)- Majoring in Anatomy & Cell Biology. 
"It is important for Indigenous people to realize they are really needed in healthcare….we are smart, we are capable of anything!"
Emma Werezak is a third year PharmD student at the University of Saskatchewan. Emma knew she wanted to be involved in health care, but it wasn't until she did a senior project on breast cancer research that she became interested in the specific drugs that were being used in treatment of breast cancer when she began to consider a career in pharmacy. Emma then enrolled in a physical pharmacy course and was hooked. 
Although she did not have any prior experience in pharmacy prior to admission to the PharmD program at the UofS, she has appreciated the hands-on community learning in the program and the learning opportunities afforded through the skills labs.  
Emma reflected that Indigenous peoples are underrepresented in pharmacy and that it is important to have someone that people in the community can relate to and reminds Indigenous students that "We are smart, we are capable of anything."  Emma acknowledges university can be a challenge for many Indigenous students as it can seem like a big, intimidating place, but she encourages these students to not give up, reach out to people at the College, ask questions and believe in yourself. For those considering a career in pharmacy, she recommends taking an undergraduate course in physical pharmacy, to work in a pharmacy as a pharmacy assistant or talk to a pharmacist to see if it is a right fit for you. Moving forward Emma is happy with her career choice as she stated, " I really just want to be happy, I want to enjoy what I am doing, and knowing that I am helping people and making a difference in people's lives." Finally Emma felt that it is "Important for Indigenous peoples to realize they are really needed in health care, especially rural health care." and that they can be "someone elders can connect to, relate to on a more personal deeper level" and "someone that shares the same cultural values as you is important when you are looking to speak with a health care professional and someone that you trust."  As a future Indigenous pharmacist, she hopes that she can offer a different perspective, figure out what a given community needs, and identify programs that will benefit Indigenous peoples as she discussed how being culturally aware is important and being open to learning different ways of life than perhaps we are used to will be crucial to the future healthcare. 
---
Marlin Legare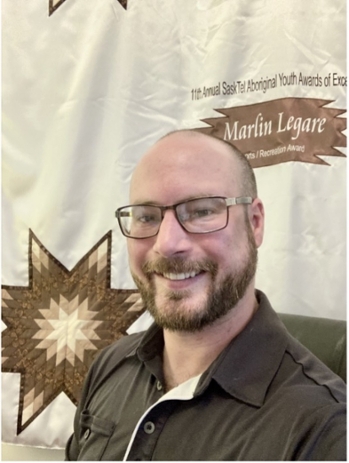 Member of the Métis Nation Saskatchewan
Master student in Nutrition, College of Pharmacy and Nutrition
Bachelor of Science in Kinesiology, U of R 
 "Most valuable so to speak component is to get more Indigenous world views in the program. To blend or braid traditional knowledge with Western science".  
Marlin Legare, member of the Métis Nation-Saskatchewan, is currently pursuing a Master of Science in nutrition with the College of Pharmacy and Nutrition. Marlin enjoys sharing his knowledge of traditional sustenance hunting practices and was able to share his knowledge on the entire process of butchering and making cuts in the animal with the nutrition students which has helped to enhance the nutrition program. "That is the kind of traditional knowledge I have that I can bring with me to my future research or educational curriculum to help enhance traditional knowledge", he said as he talked about the importance of recruiting more Indigenous students like himself to "incorporate more Indigenous worldviews and perspectives into the program".
Marlin's research entitled, Development and Piloting of an Indigenous Based Digital Food and Nutrition Education and YouTube Video Resource among Rural High Schools Students in Northern Saskatchewan, looks at developing video education resources on Indigenous nutrition and food harvesting practices such as plant harvesting, hunting, fishing, and small-scale agriculture. He will be distributing them to a school in Northern Saskatchewan as a pilot project to test their usefulness for students and teachers as a resource. He is passionate about looking at alternative ways to enhance nutrition educational curriculum for Indigenous communities and engaging primary students to make significant lifestyle changes throughout their lifetime. "Habits you build as youth have a tendency to carry throughout lifetime" he said, "engaging youth is what I find is the most critical and the most important aspect of long term wellbeing for Indigenous communities". After he completes his education, Marlin is excited to begin a career in research with Indigenous communities.
---
Sydney Climenhaga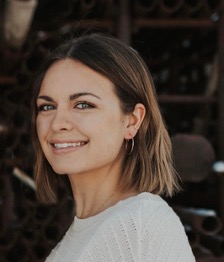 Registered Dietitian – graduate 2020
Member of the Peepeekisis First Nation
Current position: Canadian Feed the Children – Operations Officer
"To actually have someone that presents as Indigenous is huge I think because it takes away that barrier between people and seeking care."
Sydney Climenhaga graduated from the College of Pharmacy and Nutrition in 2020 with a degree in nutrition and dietetics. As a relatively new dietitian, Sydney has already experienced the broad opportunities for dietitians wanting to work directly with Indigenous communities in Indigenous health and wellness. "I was very lucky to get my first job on reserve and I felt that I was really making a difference in those families lives and really being part of the community," she said, as she talked about her first role as a community dietitian with Carry the Kettle First Nation. Sydney has since moved on to another role as an operations officer with Canadian Feed the Children. There she helps provide food security, food sovereignty, and land based learning support to 31 First Nation communities across Canada. "Being able to work with FN communities is something that has always been near and dear to my heart, so that's what I'm doing and that's what's important to me, and I've landed exactly where I want to be right now," said Climenhaga. As a member of the Peepeekis First Nation, she talked about the unique role herself as well as other Indigenous dietitians can bring to the profession including helping to build connections with Indigenous communities and bringing a more holistic approach to the nutrition science.
---
Tracy Price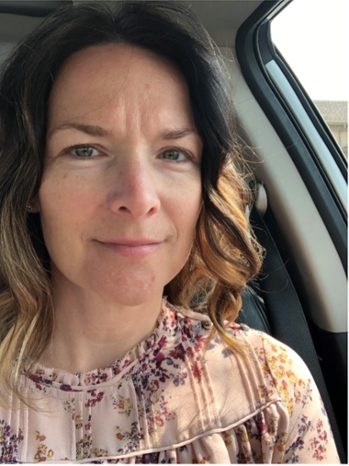 Graduated from the College of Pharmacy & Nutrition in 1998 
Currently a Pharmacist with Rubicon Pharmacies, member of Rubicon's Indigenous Care Ambassadors group 
Citizen of the Métis Nation-Saskatchewan
"It is important to educate pharmacy providers to ensure that they never create a barrier to care." 
Tracy Price, member of the Métis Nation-Saskatchewan, grew up in Creighton, SK and graduated from the College of Pharmacy and Nutrition as a pharmacist in 1998, and currently works with Rubicon Pharmacies. She began her career in Île-à-la-Crosse and has since worked at or helped serve several Indigenous communities including Pelican Narrows, Cumberland House, La Ronge, Stanley Mission, and Montreal Lake. During her interactions with these communities, Tracy was involved in trying to improve the standard of care for patients in remote Saskatchewan communities including not only improving the distribution system for pharmacy care when bus service was cancelled, but forging relationships with these communities and their clinics to build trust. In this she was able to provide a specialty rotation for a UofS pharmacy student to fly-in to Stony Rapids & Black Lake so they could be immersed in a community and begin to truly understand the community. 
These efforts led to a newsletter that was distributed to nurses/physicians at the remote clinics providing support for pharmacy care and emphasizing the importance of the roles of pharmacists serving remote communities and how face-to-face contact is critical to building relationships.  
These efforts have now coalesced into the Indigenous Care Ambassadors group within Rubicon which has 6 members across western Canada. Their main goals are to educate pharmacy providers to ensure that they "Never create a barrier to care." and the importance that patients need to know who their pharmacists are. Tracy stated that "Health care is better if there is a relationship between the provider and the patient" and this establishment of trust has led to patients reaching out to their pharmacists and had an overall positive impact.  
Efforts continue toward educating and enlightening pharmacists to the role that the 60's scoop and residential schools continue to have on Indigenous communities and how building trust and meeting these communities are key in moving patient-centred and pharmacy care forward.
---
Calyn Stange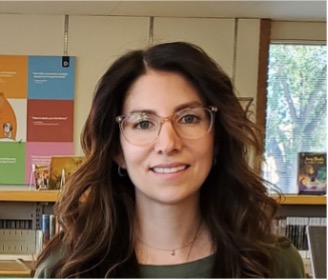 Member of the Métis Nation-Saskatchewan 
Registered dietitian – Graduate 2008 – College of Pharmacy and Nutrition, Usask 
Children's Book Author – Are you Hungry? 
Primary care Health Manager – Northern Saskatchewan 
"If you're someone that likes a varied profession that offers a variety of experiences, I think nutrition is a really good choice." 
Calyn Stange, member of the Métis Nation-Saskatchewan, is a graduate of the Nutrition program in 2008. As a registered dietitian and primary health care manager in Northern Saskatchewan, Calyn currently finds herself in a leadership role. As an Indigenous leader and decision maker in management, she brings an important Indigenous lens to her management role and talked about the importance of being able to support the TRC Calls to Action to align with program planning in the north to help bring about change and improve the lives of Indigenous peoples. Calyn is a leading example of the versatility of the nutrition program as she most recently was able to draw on both her language and culture combined with her unique nutrition background to create a children's book that supports both nutrition and literacy for children in the North. Her book, Are you Hungry? is available in Cree, Dene, Michif and English and aims to teach kids about traditional food practices in Northern Saskatchewan. "So for my family we speak Michif, Cree, French and English, and so it's nice because we can incorporate all of that into those stories and share those cultures and traditions within those stories," said Calyn. As part of the Northern Healthy Communities Partnership, the book is provided for free to children at their 18 month immunization clinics throughout the north.     
When talking about her passion for a career in dietetics, Calyn emphasized the large variety in career opportunities. When thinking back to high school, she remembers not having a good idea about what a dietitian even was. "I think back and it was like, ok, you can be a dentist, a teacher or a doctor.  Or maybe a nurse. So there is so much more that you can do," she said. "If you're someone that likes a varied profession that offers a variety of experiences, I think nutrition is a really good choice." 
---
Verla Chatsis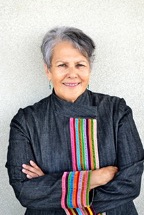 Graduated from the College of Pharmacy in 1985/ Retired in 2019 
Pharmacist 
Member of the Ahtahkakoop First Nation  
"Don't be afraid to dream big and realize that if you want something it will require hard work and persistence."
 Verla Chatsis, member of the Ahtahkakoop First Nation, is a graduate of the Pharmacy program in 1985 and retired in 2019. She originally wanted to be a Medical Lab Technologist, but the UofS no longer offered that program when she arrived so she enrolled in microbiology and applied to Pharmacy after a few years. She considered the work/life balance of being in pharmacy better than that of medicine. After graduation Verla did a one-year hospital residency and then found work at the University of Alberta hospital in Edmonton which eventually became part of Alberta Health Services. Although she spent some time in the ICU for neurology and cardiology and working with investigational drug studies being carried out at the hospital, she became interested in drug information where she spent more than 15 years. Working in drug information she was able to research and answer questions for doctors, nurses, and pharmacists across the province, where among other accomplishments she developed a parental therapy manual for safe administration of drugs that was used across Alberta and greatly contributed to patient safety.  
Verla was a trailblazer as the first self-identified Indigenous pharmacist from the University of Saskatchewan and was frequently the first Indigenous pharmacist wherever she worked. Verla saw an important role for herself as breaking stereotypes and hopes that when other Indigenous students see what she accomplished they would think "That person is just like me!" and it would spur them on to pursue careers such as pharmacy in health care.   
Verla sees mentorship and supports for Indigenous students at various stages, in high school, upon arrival at university and once in the pharmacy program, are important for attracting and retaining Indigenous students to a career in pharmacy. She sees many ways in which Indigenous pharmacists can impact their communities including having the empathy and understanding of the social issues faced, providing support explaining the complexity of medications face-to-face, and advocating for those patients. Educating both patients and other health care professionals regarding the barriers faced by Indigenous communities will be an ongoing challenge which pharmacists can play a major role in, as she has. 
Although there remain many challenges to overcome, Verla is proud of her accomplishments and sees many opportunities for Indigenous students in health care. She encourages Indigenous students stating "Don't be afraid to dream big and realize that if you want something it will require hard work and persistence, for me especially persistence."