Top Stories
Dr. Susan Whiting retires
On Tuesday, October 22 the college celebrated Dr. Susan Whiting's retirement at the University Club.
Dr. Whiting started her academic career at Mount Saint Vincent University and joined the Division of Nutrition and Dietetics as an Associate Professor in 1988. 
As of October 1, she was granted the honourary title of Distinguished Professor Emeritus from the University of Saskatchewan.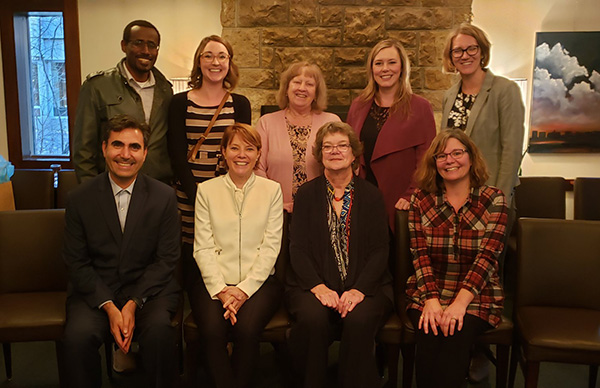 Preceptor of the year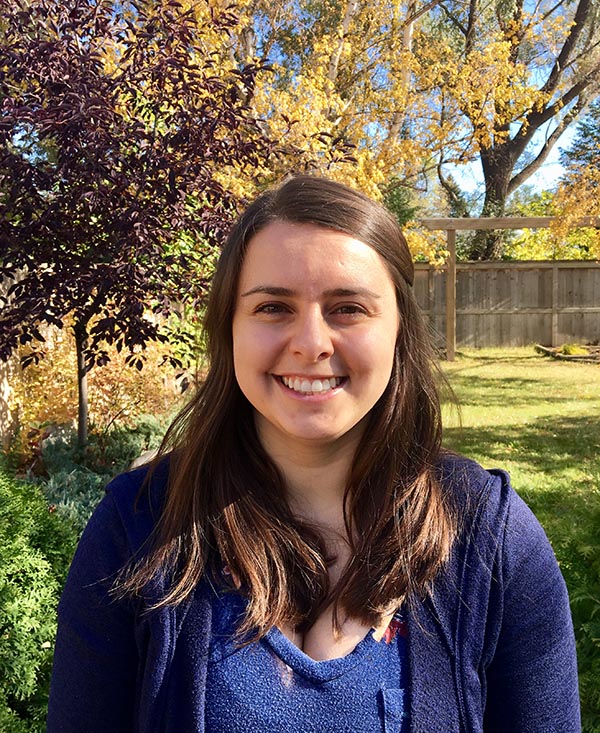 The college is pleased to announce that Aleta Schellenberg (BSP '15) the recipient of Preceptor of the Year Award for 2018-2019.
This award recognizes a preceptor in the Pharmacy program at the College of Pharmacy and Nutrition at the University of Saskatchewan who has made a significant contribution to the education of pharmacy students in the Experiential Learning program.
We've moved
Some faculty and staff moved into our permanent space in Health Science A-wing during the week of November 4. The new main office is located on the second floor of A-wing in room 2A20.01.
The move to A-wing is one of the final steps in a 13-year project to renovate and expand the Health Sciences Building to provide new opportunities in research, teaching and learning.
More College News
Class of 2023 White Coat Ceremony
Congratulations our new Doctor of Pharmacy class on receiving their white coats at a ceremony on Sunday, October 6. Thank you to Master of Ceremonies Dr. Ed Krol, as well as Dr. Patricia McDougall for providing greetings from the university, Alex Crawley (BSP '12) for providing the keynote address, and the following people who acted as dressers for the students:
Cordell Hilderman, Pharmacy Association of Saskatchewan
Jane Alcorn, Dean, College of Pharmacy and Nutrition
Riley Burkart, Co-President, SPNSS
Palima Shrestha, Senior Stick
Danielle d'Entremont, CAPSI representative
Christine Hrudka, Canadian Pharmacists Association representative
Jeana Wendel, Registrar, Saskatchewan College of Pharmacy Professionals
Alex Crawley, President, Canadian Society of Hospital Pharmacists, Saskatchewan Branch
Orange Shirt Day
Monday, October 30 was Orange Shirt Day and the faculty and staff wore orange to recognize the residential school experience, to witness and honour the healing journey of the survivors and their families, and to commit to the ongoing process of reconciliation.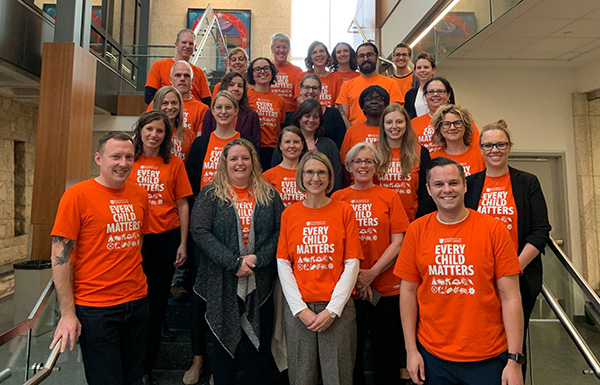 Huskie All-Academic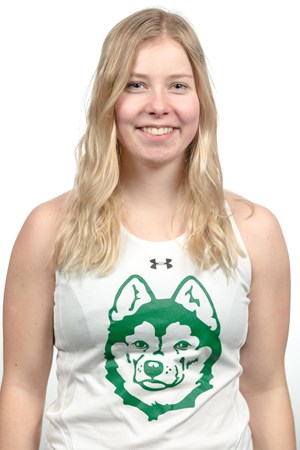 Congratulations to second year pharmacy student Kellie Onda-Inglis who was recognized at a Huskie Athletics breakfast this morning for her academic achievements in the 2018-19 athletic season.
Kellie was named to both the U SPORTS Canada Academic All-Canadian Team and the Huskie Athletics All-Academic First Team for maintaining an average of at least 80% in the required number of credit units for each team.
Professional Enhancement Day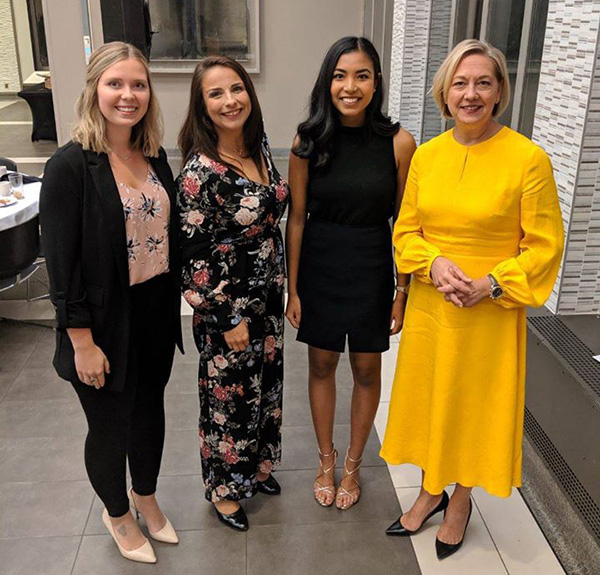 Professional Enhancement Day took place on Thursday, October 3 in Marquis Hall. This year the topic is "Women in Leadership". This event will feature an interview-style talk between Jennifer Quesnel (host of Saskatoon Morning on CBC Radio One) and Carolyn Tastad (Group President of Procter and Gamble North America).
Congratulations to Palima Shrestha and Renelle Hunter for organizing a successful event.  
CIBC Run for the Cure
Congratulations to the Usask Pharmacy and Nutrition team on raising $2,924.91 and winning the Post Secondary Challenge Award.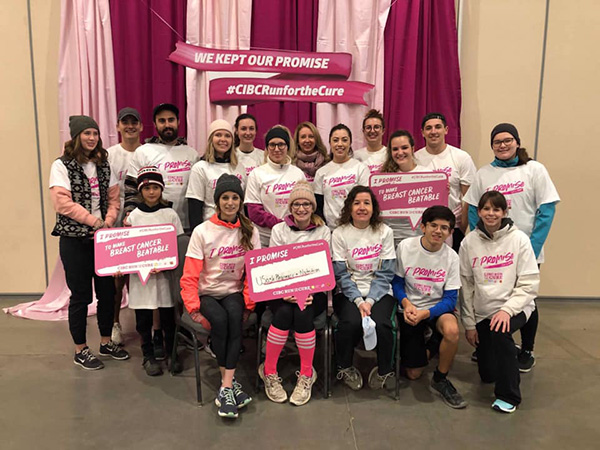 Faculty and Staff News
On Thursday, October 17 Dean Jane Alcorn and Christine Hrudka (BSP '82) took part in the forum "Stirring the POT:  A year after legalization" hosted by Health Innovation & Economic Development Inc.
Dr. Kishor Wasan was awarded a crystal recognition award from the Canadian Academy of Health Sciences at their annual meeting on September 20th 2019 for his service to the academy. 
Dr. Kishor Wasan presented in a webinar entitled "Strategies to Develop Lipid-Based Drug Delivery Systems and Oral Dosage Forms" on Thursday, October 17. Read more.
In the media
Dr. Robert Laprairie was on CTV Saskatoon on Thursday, October 17 to talk about cannabis research and this afternoon's cannabis forum. Watch the video.
Eat Well Saskatchewan coordinator Carrie Lambden was profiled in the most recent edition of the Green & White Alumni Magazine and spoke about what inspired her to study nutrition. Read more. 
While in third year pharmacy, a group of students came up with an idea to help with the opioid crisis as part of the business case competition. Mayfair Drugs will soon be the first Saskatoon pharmacy to provide free fentanyl test strips as a result of this project. Read more. 
Dr. Kishor Wasan spoke with 650 CKOM about the work he and his colleagues are doing regarding prostate cancer and testosterone. Listen to the interview.
Dr. Kishor Wasan was highlighted by Prostate Cancer Canada and the University of Saskatchewan for his research on Prostate Cancer. Read more.
Alumni News
Brooke Bulloch (BScNutr '09) was on Global Saskatoon Morning News on Tuesday, September 24 to talk about healthy snack options. Watch the video. 
Canadian Pharmacists Association board chair Christine Hrudka (BSP '82) visited the college to speak to PHAR 314 Management in Pharmacy II students about women in pharmacy leadership and CPhA's election priorities.
Brooke Bulloch (BScNutr '09) was on CTV Saskatoon on Tuesday, October 1 to talk about nut-free spreads. Watch the video.
Caitlin McGrath (BSP '17) spoke with the Bonnyville Nouvelle on Tuesday, October 22 about the importance of protecting yourself and others by getting the flu vaccine. Read more.
Beth Kessler (BSP '08) was part of a Pharmacy Association of Saskatchewan media event on Tuesday, October 22 to mark the start of the Seasonal Influenza Immunization Program in Saskatchewan. Read more.
In October, Tim West (PhD '12) Director - Safety and Infection Prevention and Control for the Saskatchewan Health Authority (Saskatoon Area) visited the college to teach quality improvement to the third-year pharmacy students.
Research and Graduate Studies
Trainee Success
Congratulations to our MSc and PhD Graduates!
Eight former graduate students will receive their degrees at Fall Convocation 2019 on November 13th: 
PhD
Mona Mohamed Abdel Moniem Khamis Hamada
Thesis – Pharmacy: Metabolomic Analysis of Urine for Improving the Diagnosis of Asthma and COPD
Supervisors: Drs. Darryl Adamko and Anas El-Aneed
Muath Helal
Thesis – Pharmacy: In Vitro Studies on Cyanidin Protection Against Doxorubicin Cardiomyocyte Cytotoxicity and Anticancer Activity
Supervisors: Drs. Jane Alcorn and Brian Bandy
Getenesh Berhanu Teshome
Thesis – Nutrition: Effectiveness of Nutrition Education Intervention on Pulse use in Complementary Food for Rural Mothers and on Nutritional Status of Children Aged 6-24 months in Sidama Zone, Southern Ethiopia
Supervisors: Drs. Carol Henry and Susan Whiting
MSc
Natasha Julia Brooke Breward
Thesis – Pharmacy: A Systematic Review Examining Cannabis Use for the Treatment of Multiple Sclerosis
Supervisor: Drs. Jane Alcorn and Charity Evans
Rana Jazeri
Thesis – Nutrition:  Macro and Micronutrient Content of Foods Served to 3-5-year- old Children Before and After Pulse Intervention and Factors Influencing the Sustainability of Pulse-Based Foods in Saskatoon Childcare Centres
Supervisor: Dr. Carol Henry
Sharayu Anand Karkare
Thesis – Pharmacy: Targeted Therapy of Osteosarcoma with Radiolabeled Monoclonal Antibody to an Insulin-Like Growth Factor-2 Receptor
Supervisors: Dr. Ekaterina Dadachova 
Razieh Ostad Ali Dehagi
Thesis – Nutrition: D-Lactate and its Related Metabolic Intermediates: Potential Biomarkers for Diabetic Vascular Complications
Supervisor: Drs. Jane Alcorn and Terra Arnason
Shuyu Shang
Thesis – Pharmacy: An Oral Rehydration Solution with Flaxseed Gum
Supervisor: Drs. Jane Alcorn and Martin Reaney
Poster Presentations and Awards 
Asmita Poudel, PhD student with Drs. Ildiko Badea and Anas El-Aneed, gave the oral presentation Development and characterization of lipid-based nano-formulation containing canola bioactives phytosterols and tocopherols with the aim of lowering blood cholesterol at the NATO Science for Peace and Security Programme Advanced Study Institute G5535 "Detection, Diagnosis, and Health Concerns of Toxic Chemical and Biological Agents" held in Cetraro, Italy from September 29th to October 5th, 2019. Asmita received an ~$1,500 NATO Science for Peace and Secruity (SPS) Programme—Advanced Study Institute Travel Award to attend this conference.
Dr. George Gachumi, postdoctoral fellow with Dr. Anas El-Aneed, and Fatma Elessawy, PhD student with Drs. Anas El-Aneed and Randy Purves, also received NATO Science for Peace and Secruity (SPS) Programme—Advanced Study Institute Travel Awards to give oral presentations at the above conference.
Mojtaba Shafiee, MSc student with Dr. Hassan Vatanparast, was awarded a third place award at the 19th Annual Saskatchewan Epidemiology Association Sympoisum for his poster Household Food Insecurity is Associated with Depressive Symptoms in the Canadian Adult Population.  This conference was held in Regina on October 8-9, 2019.
Tallan Black, MSc student with Drs. Robert Laprairie and Patrick Neary, presented her poster Characterization and Targeting of the Endocannabinoid System in Traumatic Brain Injury at the Australian Neurotrauma Symposium, held in Melbourne on October 14-15, 2019. 
Sukanya Pati, MSc student with Drs. Jonathan Dimmock and Rajendra Sharma, was awarded a first place award at the Animal-Human Relationship: Three Rs & Animal Research conference for her poster Evaluation of potent cytotoxic curcumin analogs as potent Methionine aminopeptidase 2 (MetAP2) inhibitors for treating colon cancers. This conference was held in Saskatoon from October 18-19, 2019.
Fakir Yunus, PhD student with Drs. Carol Henry and Diane DellaValle, presented his poster The determination of an acceptable amount of iron-fortified lentil in meals that significantly improves the iron intake of Bangladeshi adolescent girls at the 4th Annual Plant Phenotyping and Imagining Research Centre Symposium, held in Saskatoon on October 23-24, 2019.
Research Funding
Dr. Kishor Wasan (co-PI), Michael Cox (nominated PI, UBC) and Franco Vizeacoumar were awarded a $200,000 research grant from Prostate Cancer Canada for Targeting Scavenger Receptor Class B1 (SR-B1) to Promote Cholesterol Depletion-mediated Cytotoxic Stress in Castration Resistant Prostate Cancer.
Dr. Jessica Lieffers was awarded $5,000 from the Canadian Foundation for Dietetic Research for the undergraduate research project Implementation of the Nutrition Care Process among Dietitians in Canada.
Recent Publications
Dadachova, E. (2019). Future Vistas in Alpha Therapy of Infectious Diseases. Journal of Medical Imaging and Radiation Sciences.
Hossain, M., Das, U., & Dimmock, J. R. (2019). Recent advances in α,β-unsaturated carbonyl compounds as mitochondrial toxins. European Journal of Medicinal Chemistry, 183, 111687.
*Jin, W., Al-Dulaymi, M., Badea, I., Leary, S. C., Rehman, J., & El-Aneed, A. (2019). Cellular Uptake and Distribution of Gemini Surfactant Nanoparticles Used as Gene Delivery Agents. The AAPS Journal, 21(5).
*Karkare, S., *Allen, K. J. H., *Jiao, R., Malo, M. E., Dawicki, W., *Helal, M., … Dadachova, E. (2019). Detection and targeting insulin growth factor receptor type 2 (IGF2R) in osteosarcoma PDX in mouse models and in canine osteosarcoma tumors. Scientific Reports, 9(1).
Laprairie, R. B., Mohamed, K., Zagzoog, A., Kelly, M. E. M., Stevenson, L. A., Pertwee, R. G., … Thakur, G. A. (2019). Indomethacin enhances type 1 cannabinoid receptor signaling. Frontiers in Molecular Neuroscience, 12, 257.
Mehdizadeh, A., Nematy, M., Vatanparast, H., Khadem-Rezaiyan, M., & Emadzadeh, M. (2019). Impact of Parent Engagement in Childhood Obesity Prevention Interventions on Anthropometric Indices among Preschool Children: A Systematic Review. Childhood Obesity.
Mohammed-Saeid, W., Karoyo, A. H., Verrall, R. E., Wilson, L. D., & Badea, I. (2019). Inclusion Complexes of Melphalan with Gemini-Conjugated β-Cyclodextrin: Physicochemical Properties and Chemotherapeutic Efficacy in In-Vitro Tumor Models. Pharmaceutics, 11(9), 427.
Nilofer, C., Sukhwal, A., Mohanapriya, A., Sakharkar, M. K., & Kangueane, P. (2019). Small protein–protein interfaces rich in electrostatic are often linked to regulatory function. Journal of Biomolecular Structure and Dynamics, 1–20.
*Poudel, A., *Gachumi, G., Wasan, K. , Dallal Bashi, Z., El-Aneed, A., & Badea, I. (2019). Development and Characterization of Liposomal Formulations Containing Phytosterols Extracted from Canola Oil Deodorizer Distillate along with Tocopherols as Food Additives. Pharmaceutics, 11(4), 185.
Swidrovich, J. (2019). Discharge Medication Reconciliation for Patients Being Discharged to a First Nations Reserve. Innovations in Pharmacy: Clinical Practice. CJHP72(5): September-October.
Wilson, G. A., Perepelkin, J., & Zhang, D. Di. (2019). The roles of diversification and specialization strategies in the entrepreneurial orientation and performance relationship. Journal of Small Business & Entrepreneurship, 1–20.
Yaghoubi, M., Mansell, K., Vatanparast, H., Steeves, M., Zeng, W., & Farag, M. (2019). Prevalence of diabetes-related complications and their association with determinants identified in Canada's Survey on Living with Chronic Diseases – Diabetes Component (SLCDC-DM-2011). Canadian Journal of Diabetes