Copyright Disclaimer
No part of this work may be reproduced, distributed, or transmitted in any form or by any means, including photocopying, recording, or other electronic or mechanical methods, without the prior written permission of the copyright holder. For copyright permission requests, please contact pharmacyel@usask.ca.
Important Information
Starting in May 2023, students and preceptors will use a new assessment framework and evaluation form for midpoint and final evaluations during 4-week and 8-week rotations. The same evaluation form will be used for all midpoint and final assessments in direct patient care rotations in all years of the program. While the form is the same, the minimum expected level of achievement required to pass the course increases each year. Non-direct patient care rotations in Year 4 use a similar form.
Please note that application of the assessment framework to immersion courses and service learning is in progress. This webpage will be updated as that information is confirmed in Summer 2023.
Overview Video - April 2023
If the PharmD EL Assessment Framework and Evaluation Strategy is new to you, please watch the following video for an overview or continue to scroll through this webpage for important information.
More detailed information about assessment and evaluation in each EL rotation can be found in the relevant Placement Modules in the USask EL PharmD Preceptor Training and Development Program.
Background
Association of Faculties of Pharmacy of Canada (AFPC) Educational Outcomes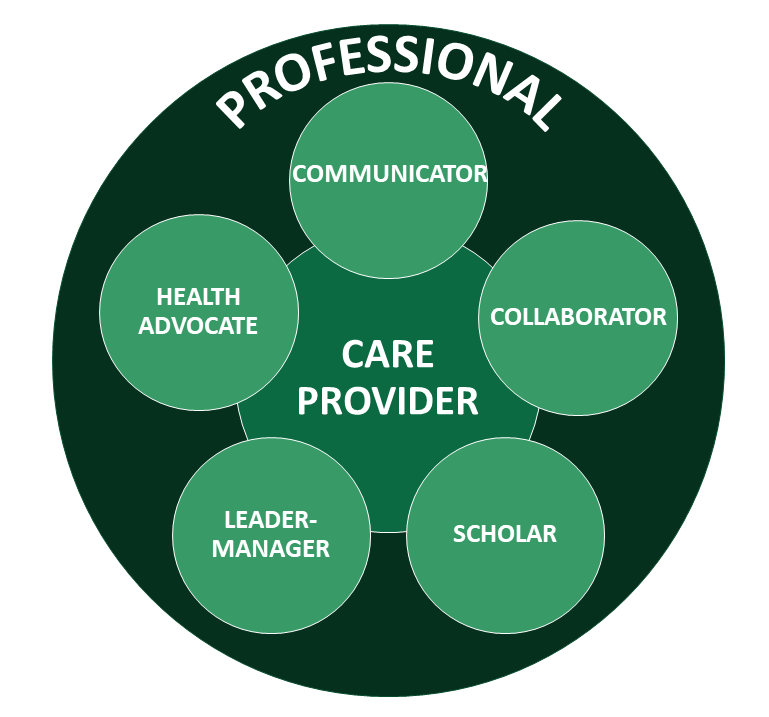 Experiential Learning presents students the opportunity to practice and receive feedback on the essential knowledge, skills, and behaviours of a competent pharmacy professional at entry-to-practice.
The Association of Faculties of Pharmacy of Canada (AFPC) requires pharmacy graduates to demonstrate competence in knowledge and skills in seven overarching Educational Outcomes by the end of the PharmD program:
Care Provider
Communicator
Collaborator
Scholar
Health Advocate
Leader-Manager
Professional
It is expected that students skillfully integrate elements of the Communicator, Collaborator, Scholar, Leader-Manager, and Health Advocate Educational Outcomes into their role as a Care Provider. The Professional role is the overarching ethos of the discipline of pharmacy (AFPC, 2017) and should be consistently and globally demonstrated by students.
National Association of Pharmacy Regulatory Authorities (NAPRA) Competencies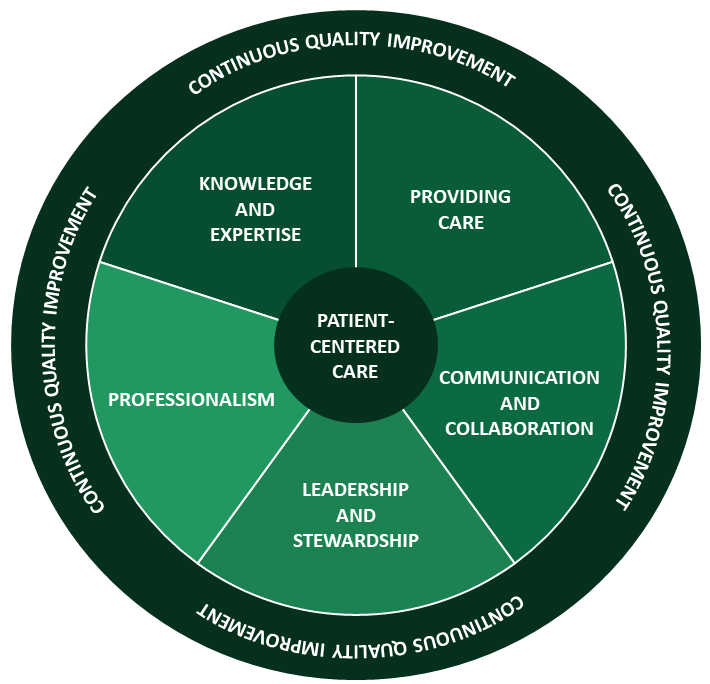 In addition to fulfilling the AFPC Educational Outcomes, pharmacy graduates must demonstrate competence within the nine National Association of Pharmacy Regulatory Authorities (NAPRA) Competency Categories:
Ethical, Legal, and Professional Responsibilities
Patient Care
Product Distribution
Practice Setting
Health Promotion
Knowledge and Research Application
Communication and Education
Intra- and Inter-Professional Collaboration
Quality and Safety
NAPRA notes, however, that competencies "provide an overview of what a pharmacist at entry to practice is able to do rather than how a pharmacist is expected to perform tasks" (NAPRA, 2017). The NAPRA Model Standards of Practice for Canadian Pharmacists outline how a pharmacy professional should be performing tasks in five domains and is built on a foundation of patient-centered care and continuous quality improvement.
Completing Evaluation Forms
Student Self-Evaluations
Students must complete 3 formal self-evaluations in each rotation:
Pre-Rotation Self-Evaluation
Midpoint Self-Evaluation
Final Self-Evaluation
Students complete these self-evaluations electronically using the Midpoint and Final Evaluation Form in CORE and should submit them at least 2 days before day 1 of the rotation, scheduled midpoint assessment, and scheduled final assessment, respectively.
Students are responsible for demonstrating and documenting evidence of achieving the minimum expected level for each EL competency and must also propose how they plan to improve in areas of deficiency.
Preceptors should review the students' self-evaluations at midpoint and final and have a discussion with the student about how their self-evaluation compares to the preceptor's evaluation of their performance. 
Preceptors are encouraged to hold students accountable to documenting sufficient evidence in their self-evaluations. If you feel a student needs to revise their self-evaluation, please have them email the EL Office to have a course coordinator unlock the form in CORE.
Watch the video below to see how to find and review student self-evaluations.
Preceptor Evaluation of Student
Preceptors are required to complete formal, electronic evaluations in CORE at midpoint and final for each rotation and discuss with the student. 
Watch the video below to see how to complete midpoint and final evaluations.
Domains and Competencies
USask PharmD EL Domains
The Midpoint and Final Evaluation Form is divided into the five domains of the 
NAPRA Model Standards of Practice for Canadian Pharmacists
 as most pharmacy professionals will recognize that they demonstrate knowledge, skills, and behaviours within each of these categories every day.

USask PharmD EL Competencies
Under each domain, USask EL competencies specify the knowledge and skills that must be assessed in the rotation. There are 19 in total, as outlined in the graphics below. All 19 USask EL competencies must be assessed in each direct patient care rotation.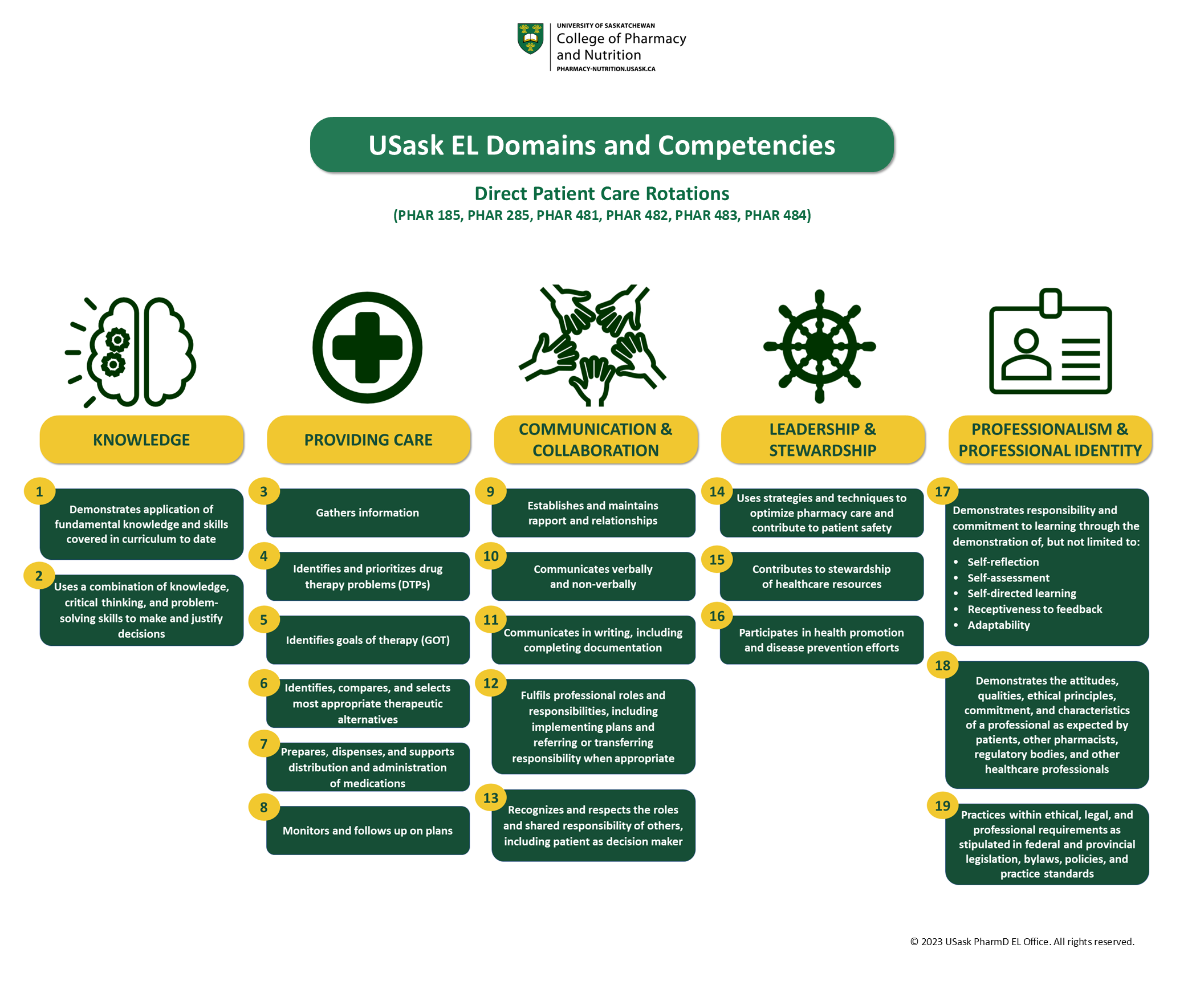 The same 19 USask EL competencies are used to evaluate students in non-direct patient care rotations. Thirteen of the competencies are required and 6 are optional, as applicable to rotation activities.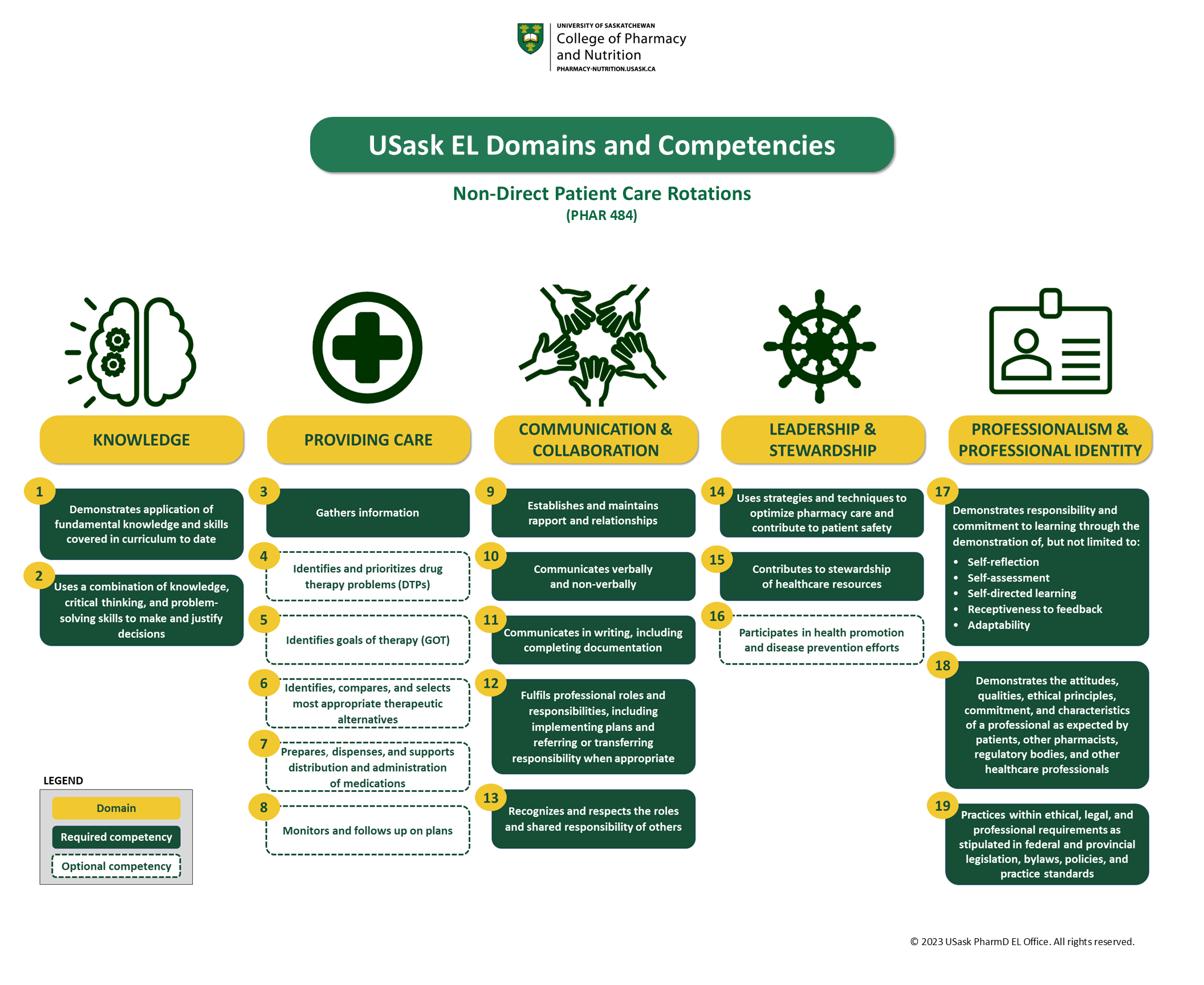 A student must be able to demonstrate the competency through observed action under the guidance and appropriate supervision of a preceptor. The student's documented achievement rating for each competency informs the EL Office and the faculty which of the AFPC Educational Outcomes and NAPRA Professional Competencies the student is achieving, and which they may be having difficulty with. 
The Midpoint and Final Evaluation Form should mold to any pharmacy practice.
Students should be able to achieve the expected level in each of the required competencies if offered the opportunity to participate in the daily tasks and activities regularly completed on site.
Click the button below to download a list of example activities, actions, and behaviours that may demonstrate the EL competencies in practice. The list is non-exhaustive and meant to help identify opportunities for assessment and to stimulate ideas for your own unique practice site.
Expected Level of Achievement
Achievement Ratings
Five achievement ratings guide student assessment in the framework: Insufficient, Emerging, Growing, Competent, and Exceeding.
For each of the USask EL competencies introduced in the last module, you will evaluate the student using the Midpoint and Final Evaluation form and assign an achievement rating.

Progressive Growth
A student's ability to demonstrate the knowledge, skills, attitudes, and behaviours of an entry-to-practice pharmacist is expected to develop with time, exposure, and practice as they progress through the PharmD program. Students will develop from Emerging to Growing to Competent as they gain experience in EL rotations, didactic courses, and work experiences outside of school. 
It is expected that Year 1 students will likely require significant guidance and will be able to manage lower complexity situations with beginner knowledge and skills. Students in Years 2 and 3 are expected to take more initiative in solving higher complexity problems as they gain experience and confidence. In Year 4, students should be practicing with self-awareness, initiative, applied and connected knowledge, appropriate judgement, and minimal guidance.

Minimum Expectation By Year
In order to pass the rotation, the student must be able to consistently demonstrate performance at the expected level of achievement for each USask EL competency.
In Year 1, students must achieve

 

Emerging in each competency and overall in the final evaluation.
In Years 2 and 3, students must achieve

 

Growing in each competency and overall in the final evaluation.
In Year 4, students must achieve

 

Competent in each competency and overall in the final evaluation of

 

each rotation.
It is great if students can achieve a higher rating than expected, but the minimum expectation is identified as the standard to pass the course. 
If a student is demonstrating behaviours consistent with the Insufficient rating at any point, the EL Office should be contacted.

Assessing for Consistent Performance
Accurate assessment of a learner's performance requires multiple observations over time. For each competency, learners should consistently demonstrate the descriptors associated with the achievement rating assigned.
In other words, learners' performance should align with the descriptors of the expected level in the rubrics most of the time throughout the assessment period. It is not sufficient for a learner to demonstrate behaviour consistent with the assigned rating sporadically nor only in the final days of the rotation. 
If that is the case, the learner likely achieved a lower rating. Preceptors and learners who are unsure how to consider consistency in their evaluations are encouraged to contact the EL Office.
Achievement Below the Expected Level
Midpoint Evaluation
Learners may achieve a lower than minimum expected level at the midpoint evaluation as they will have time in the second half of the placement to demonstrate growth and achievement of the minimum expected level. 
The learner must create a plan for how they will achieve the minimum expected level by the final evaluation that the preceptor agrees is both reasonable and achievable. 
Learners must reach out to the EL Office if deemed Insufficient in any USask EL Competency at midpoint or if they are not on track to achieve the minimum expected level by the final evaluation. Preceptors are also strongly encouraged to reach out for support and guidance.
Final Evaluation
An achievement rating of less than the minimum expected level in any competency by final evaluation will result in unsuccessful completion of the EL rotation and a grade of Fail will be assigned. A learner cannot achieve a higher overall achievement rating than their lowest individual rating in a competency (i.e., if the learner is graded 
Growing 
in one or more competencies, they cannot receive 
Competent 
overall).