Bio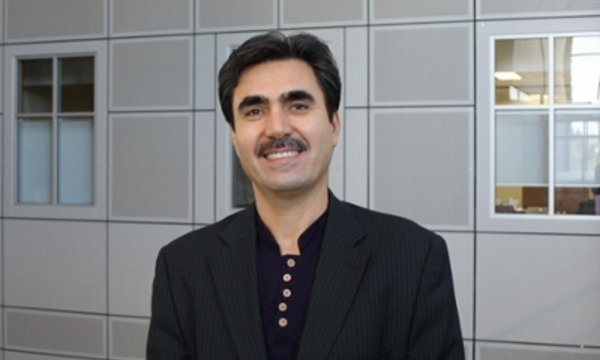 Dr. Hassan Vatanparast is an associate professor of Nutritional Epidemiology with a joint appointment in the College of Pharmacy and Nutrition and the School of Public Health. He teaches graduate and undergraduate courses such as Advances in Public Health Nutrition, Health Promotion, and Food, Culture, and Nutrition.
Dr. Vatanparast also chairs the Public Health Nutrition Research Network, a group involved in building research capacity for public health nutritionists and addressing current nutrition and health issues in Saskatchewan.
Research
Dr. Vatanparast investigates the impact of nutrition and other lifestyle factors on chronic conditions such as obesity, metabolic syndrome, diabetes, cardiovascular diseases, and osteoporosis. He engages in a range of projects in the basic, clinical, and applied sciences, using new and innovative approaches to assess health and nutritional status and public health issues.
Among his research activities, Dr. Vatanparast leads the SSHRC-funded multinational project Food security, Culture, and Immigration comprising over 50 co-investigators, graduate students and research personnel. The project aims to provide a better understanding of food security status and social integration of refugees as well as aid policies and practices in Iran and Pakistan, the first points of entry, and at final destination in Australia, Switzerland, and Canada.
Selected Publications
Setayeshgar S, Whiting SJ, Pahwa P, Vatanparast H. Predicted 10-year risk of cardiovascular disease among Canadian adults using modified Framingham Risk Score in association with dietary intake. Applied Physiology, Nutrition, and Metabolism, 2015 Oct; 40(10):1068-74.
Shah SM, Loney T, Dhaheri SA, Vatanparast H, Elbarazi I, Agarwal M, Blair I, Ali R. Association between acculturation, obesity and cardiovascular risk factors among male South Asian migrants in the United Arab Emirates--a cross-sectional study. BMC Public Health. 2015 Feb 28; 15:204. doi: 10.1186/s12889-015-1568-x.
Henry C, Whiting SJ, Phillips T, Finch SL, Zello GA, Vatanparast H. Impact of the removal of chocolate milk from school milk programs for children in Saskatoon, Canada. Appl Physiol Nutr Metab. 2015 Mar; 40(3):245-50.
Vatanparast H, Nisbet C, Gushulak B. Vitamin D insufficiency and bone mineral status in a population of newcomer children in Canada. Nutrients. 2013 May 14; 5(5):1561-72.
Sabbagh Z, Markland J, Vatanparast H. Vitamin D status is associated with disease activity among rheumatology outpatients. Nutrients. 2013 Jun 26; 5(7):2268-75.
Yang PH, Black JL, Barr SI, Vatanparast H. Examining differences in nutrient intake and dietary quality on weekdays versus weekend days in Canada. Appl Physiol Nutr Metab. 2014 Dec; 39 (12):1413-7.
Setayeshgar S., Whiting, S. J., Vatanparast H (2012). Metabolic Syndrome in Canadian Adults and Adolescents: Prevalence and Associated Dietary Intake. Published in ISRN Obesity Vol. 2013
Nikpartow N, Danyliw AD, Whiting SJ, Lim HJ, Vatanparast H. Beverage consumption patterns of Canadian adults aged 19 to 65 years. Public Health Nutr. 2012 Dec;15(12):2175-84.
Duckham R, Baxter-Jones A, Johnston J, Vatanparast H, Cooper D, Kontulainen S. Does physical activity in adolescence have site and sex specific benefits on young adult bone size, content and estimated strength? J Bone Miner Res. 2013 Aug 1.
H. Vatanparast and S. Whiting, 2010.  Role of Vitamin and Mineral Supplements in Nutrient Intakes of Canadians and its Determinants, 

Health Reports

, 

21

(4), 1-8.